Business Readiness / Operational Readiness
Is your organisation embarking on a new or expansion project?
Do you have solid plans to be operationally ready when the facilities have been built?
Will you have the right people in the right places with the right skills at the right time?
Will your people start up as a cohesive team in a healthy, productive culture?
Too often we have seen organisations do an excellent job building their facilities; how well did they do starting the operation? Was it safe? Did it ramp up quickly? Unfortunately we all know the answer to these questions too often is 'no'…
Logical, transparent method
First Principles Consulting's process-centric approach focuses on identifying all project deliverables by starting with the end in mind: We ask:
"How will you lead the organisation?"
"What are the processes required to deliver the project's objectives?"
"How will these processes be enabled to realize their full potential?"
Combine our method with a well-run Project Management Office (PMO), essential project Front End Loading (FEL) and your clear leadership, and you have some of the critical success factors you are looking for.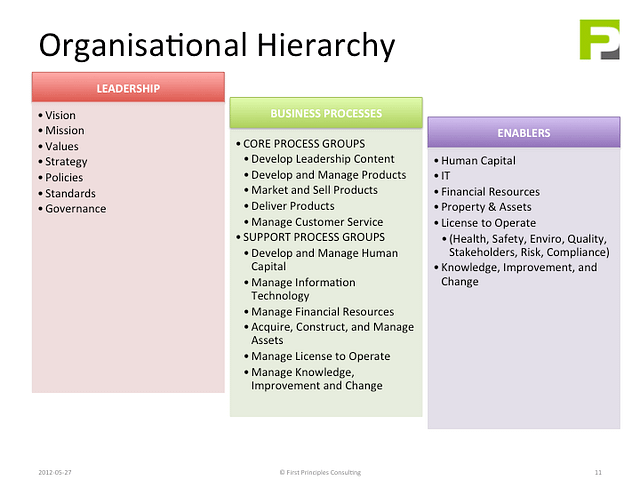 Operational Readiness at the operations level
Project: Substantial upgrade to a crushing circuit at a remote site in PNG. Conducted early stakeholder engagement sessions resulting in a mutually owned project plan; instrumental in the delivery of Standard Operating Procedures (SOPs), identification of scheduled preventive maintenance (PMs) tasks in preparation of loading these into the Computerised Maintenance Management System (CMMS). Reliability Engineering activities, Spares and Inventory, maintainer and operator competency upgrades, Risk Management.
Outcomes: Personnel had been trained, operational management system elements had been implemented and critical spares were in store prior to turning the production unit on. This resulted in a faster ramp up and more reliable operation, delivering the ROI earlier than promised in the project proposal.
Business Readiness from the corporate level
Project: Iron Ore Miner in Perth, Australia, preparing for a large scale remote mine, rail and port operation. Developed the Business Readiness Framework. This included drafting the BR content of their Bankable Feasibility Study (BFS), describing how the organisation will operate as well as the Project Execution Plan (PEP) of how this body of work was to be deployed.
Outcomes: Benefits arose from a more rapid ramp up than otherwise would be achieved. This steep ramp up curve readily translates into more throughput earlier and therefore a higher ROI on the overallproject. In other words, by investing a relatively modest amount in the Business/Operational Readiness aspect the whole project is subject to a much greater ROI.